PVC water supply&drainage pipe production line
Views:1048 Author:Site Editor Publish Time: 2018-01-05 Origin:Site
PVC water supply&drainage pipe production line
------ greeting to cheer you happy new year from Suzhou Caivi Plastic Machinery
Caivi machinery focused on the production of plastic machine,we have professional technical, professional team,our company is engaged in the plastic machinery for 14 years,has a wealth of experience and perfect detection system,the company main products:plastic pipe extrusion production lines,different kinds of plastic recycling&granulating production lines,etc.and our company produces many kinds of pvc water supply pipe machine:u-pvc line pipe,groove production line,u-pvc four pipes production line,u-pvc water supply&drainage pipe production line.
Our company U-PVC pipe machine line are interested by most customer in recently years.It is estimated PVC pipe production line will have a potential huge market in plastic machinery.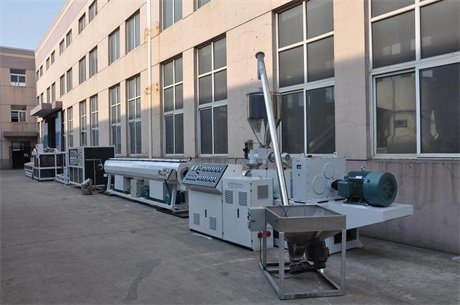 This PVC pipe used widely.i.e. water supply and drainage,waste water,liquid gas and oil transportation,sewage and builing industry.it has many advantage:better physical and chemical properties,small friction,lighter weight,good tensile strength and compressive strength,good water tightness.
Commonly used PVC pipe general specification is as follows:diameter16-800 mm,the length of the PVC pipe is commonly 4 m or 6 m, other length can be determined by the customer.According to customer requirements different production, equipped with different extruder,to customize the most suitable machine for customers.The company strictly adheres to the tenet of "reputation first, customer first, full service", constantly providing quality, comprehensive and perfect service and technical support for new and old customers.
Welcome to visit us, see you in the CHINAPLAS 2018 exhibition !
If need any more information, welcome to contact us by email: info@caivi-machine.com